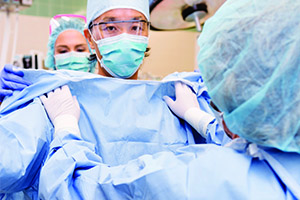 While mature markets such as the US or Europe, are using non-woven disposables as a standard norm with 90-95% of hospital coverage, temptation is high for hospitals in developing countries to select reusable cotton rather than non-woven for economic reasons. However, studies have shown that the risks of developing infection is nearly up to 3 times higher when using reusable fabrics.
Therefore, the needs to offer affordable infection control solutions are dramatically expanding in countries where the economic factor is key and where the development of safer healthcare practices are yet to be improved.
Here a few explanation on why non-woven is so efficient and safer for patients and medical professionals.
16 years of innovation against nosocomial infections
Technology has helped healthcare professionals for years, to work with fabrics acting as a barrier against germs navigating through body fluids during the surgical procedures.
SMS (Spunbond, Melt-blown, Spunbond) or SMMS (in case of 2 layers of Melt-blown), are known to be particularly resistant to tear, abrasion and pressure which makes non-woven a very reliable choice in medical draping. In direct application on skin, the other benefits of non-woven fabrics are linked with their thermal insulation, lightness and high level of breathability, giving them advantage to be well-suited for specific tasks in which comfort and cloth-like feel are essential.
Over 16 years of innovation, non-woven manufacturers have developed chemical treatment to enhance further the protective and resistant properties of fabrics, by adding anti-static, anti-bacterial and water repellent treatment. Such features applied to surgical drapes and gowns, have helped to reduce by almost 60% the cross-contamination rate during surgery, blocking infection agents contained in the body fluids at the fabric surface.
In the chain of preventing against microbial migration, SMS and SMMS combine enough strength and filtration capabilities to be well-suited for sterilization technologies (using Ethylene Oxide gas or Gamma Irradiation). Fluid resistant and in absence of any germs resulting from the sterilization process, SMS and SMMS disposables offer a reliable and safe environment to patients and staffs, preventing them from being exposed to any sort of contaminated fluids.
When non-woven medical devices can benefit to hospitals in emerging markets
Fast-growing economies often echo with rising population rate and account for 80% of the global demographic. Consequently, they experience the need to rapidly improve their healthcare system in order to absorb future higher demand for more modern healthcare services and care, just like any other industries in mutation due to demographic and economic growth.
Because cotton can be reused by being washed thoroughly and sterilized after surgery, numerous healthcare facilities tend to prefer reprocessing cotton in an attempt to save costs, over facilitating the decision-making process to wide-spread the use of disposable non-woven in the Operating Theatre.
However, purchase price is not the only costs to consider. In developing countries, where hospitals have not integrated the most high-end technologies related to laundry management, cleaning and storage are associated expenditures that are placed first in the list of accounting costs for the hospitals.
Let's imagine now, our favorite piece of garment being placed in a washing machine over and over at a high-level temperature and using strong detergent… Sadly the fabric will certainly not resist such an aggressive treatment for long. Cotton is indeed an extremely absorbent and porous material generating dust over time and use. Therefore, it cannot guarantee the principles of hygiene and safety imposed in the OT.
Single-use items have been specifically engineered to show sterilization, antimicrobial and comfort performances. Backed up by regulations and thorough certified standards such as ISO 13485 and CE marking, manufacturing systems ensure a complete traceability of products, lot number and quality controls at various stages of the production channels. Hospitals can therefore rely on their selected supplier to ensure surgeons, nurses and their patients, a fully reliable environment to evolve in.
Understanding hospitals' needs for better healthcare practices
Every Operating Theatres differ in terms of equipment's in place and doctors' preferences for the selection of accessories. Disposables have this competitive advantage to provide the convenience of being customized in their composition and design depending the hospital's requirements.
Suppliers that audit and focus on their end user's needs efficiently, are able to provide supplies on a "just-in-time" basis if necessary, facilitating the hospital's inventory and stock managements. Medical device manufacturers place the need of doctors first because the care of patients is highly at stake. As an all-in-one solution, full procedure packs are a gain in time and work for the medical staff to prepare and clean the OT.
Customizing existing procedure packs or creating new ones with supplement to drapes like absorbent towels, medical tapes, incise films or incorporating additional features to improve the main drape performance (pouch, tube connectors, etc.) can be lifesaving in an emergency situation.